Vegan dining is increasingly popular the nation over, but in Salt Lake city, this ethical approach to dining is huge! There are more options around town than you can shake a chicken at, and we've got a complete list of the best vegan restaurants in Salt Lake City. Everything from sweet treats to fine dining, and all vegan friendly!
Vegan Restaurants In Salt Lake City
All Chay
This West side Vietnamese restaurant is exclusively vegan, there's not even a bottle of fish sauce in sight. The mom and pop business is modest but offers a full gamut of Vietnamese classics: noodle and rice dishes, banh mi, even vegan friendly pho. You can find the full All Chay menu on our sister site.
1264 W 500 N, Salt Lake City, UT 84116
City Cakes & Cafe
Offering cakes, cupcakes, a full espresso bar and cafe menu this completely vegan bakery also specializes in gluten free treats as well. The baked goods are made daily from scratch and the team (who can you watch in action) make professionally decorated cakes for all occasions. Ask about other dietary requirements too!
1000 South Main St. Salt Lake City, UT 84101
Falafel Tree
A food truck that specializes in this fabulous vegan friendly, Middle Eastern treat. The truck is the work of chef Abby and entrepreneurs Tyler and Janalee Hinkson. The former is a native Egyptian with seasoned experience having helped open over 22 restaurants in multiple countries around the world.
Sage's Cafe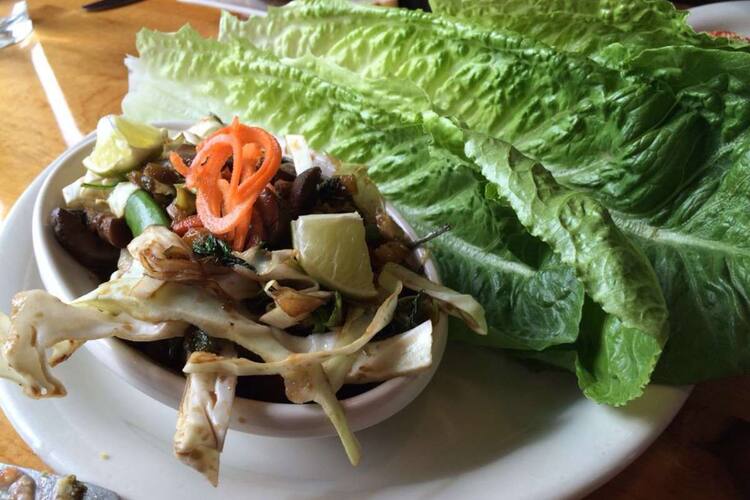 Since 1998 chef and owner Ian Brandt has proudly flown the flag for vegan dining in SLC. At Sage's Brandt aims for a more refunded, elegant dining experience, but check out his other two businesses below (Vertical Diner/Pizza) for something differen.
368 E 100 S, Salt Lake City, UT 84111
Vegan Bowl
The sister restaurant to All Chay over in West Jordan. Ran by the same family as All Chay the menu will be familiar to patrons of the original. Vegan Bowl offers a 100% vegan-friendly Vietnamese menu featuring staples such as banh mi, pho, rice and noodle dishes.
8672 South Redwood Road, West Jordan, Utah
Lil' lotus
Tucked away in the heart of Sugar House, Lil' Lotus is one of the very best vegan restaurants in SLC, offering incredible plant-based American cuisine that you just can't help but crave. From hamburgers to tacos, and hot dogs to chili cheese fries, Lil' Lotus has some of the best vegan fare around. Their cheese and protein substitutes are flavorful, have great texture, and leave you feeling more than satisfied.
Vertical diner
One of our top recommendations for the best vegan restaurants in Salt Lake City is Vertical Diner. With its authentic diner vibes and seasonal, plant-based menu, this place is sure to have you in love at first bite. What to order? You absolutely have to have Vertical Diner's Buffalo Tigers hit your table. These are chicken-style tenders made from a wheat protein served with ranch dressing. They are cooked to perfection, hold great moisture, and have an impeccable buffalo flavor.
Mark of the beastro
Our next top pick for the best vegan restaurants in SLC is Mark of the Beastro, located right in the middle of Salt Lake's hustling-and-bustling State Street. Mark of the Beastro manages to offer an exclusively vegan menu that is packed with flavor. Our favorite entree on the menu is their Chick'n and Waffles—hearty, southern fried "chicken" on top of golden homemade waffles. It's the perfect combination of savory and sweet. Do yourself a favor and order this vegan take on a classic American breakfast dish.
Rawtopia
If you're looking for high quality, organically grown cuisine, Rawtopia is a spot you definitely have to visit. Although not strictly vegan, their menu offers Mediterranean-inspired, raw and vegetarian food with a wide variety of vegan plates. For appetizers, we recommend their Baked Stuffed Mushrooms, filled with Thai cashew cream, spinach, and scallions, then topped with almond or sunflower seed cheese, parsley, and love.
But even more enticing is their Stir Fry. Imagine zucchini noodles on a bed of leafy greens, topped with veggies, seasonal fruit, and crunchy sweet curried almond ginger sauce…on second thought, instead of imagining it, you should make your way to Rawtopia immediately. The flavor of this dish will blow you away, whether you order it raw or cooked.