Glasgow is renowned for its stunning architecture, vibrant nightlife and thriving arts scene. Over the years it has also gained a reputation for its extensive range of highly acclaimed restaurants. We list the best restaurants in Glasgow offering great food with a Glaswegian twist.
The Best Restaurants In Glasgow
Bo and Birdy
Under the culinary guidance of Scotland's first female 5-star hotel Executive Head Chef, Gillian Matthews, Bo & Birdy is a modern brasserie re-imagined through a traditional Scottish lens. Over £1m was spent on creating the new 146-cover restaurant which opened in April this year and the outcome is fabulously stylish! The restaurant offers a chic, polished dining destination in the heart of Glasgow, while the menu presents the best of Scottish produce combined with bold flavours as well as classic menu options. There is an an extensive wine selection showcasing the best of Californian and French vineyards and if you like cocktails this is one of the best places in the city for them.
11 Blythswood Square, Glasgow G2 4AD
Rogano
Fitted with original Art Deco design when it opened in the 1930s, this well-known seafood restaurant in the city centre is 75 years old and still shines with exuberant style. Dedicating themselves to cooking and presenting the finest of Scottish seafood, it's a style and culinary icon you shouldn't miss. Whether you sit in the elegant restaurant, hurry in for a snifter and sandwich in the Oyster Bar or scoff a light bite at Cafe Rogano, you'll not miss out on the ambiance, taste sensations and atmosphere of Rogano.
11 Exchange Pl, Glasgow, Lanarkshire G1 3AN
The Hanoi Bike Shop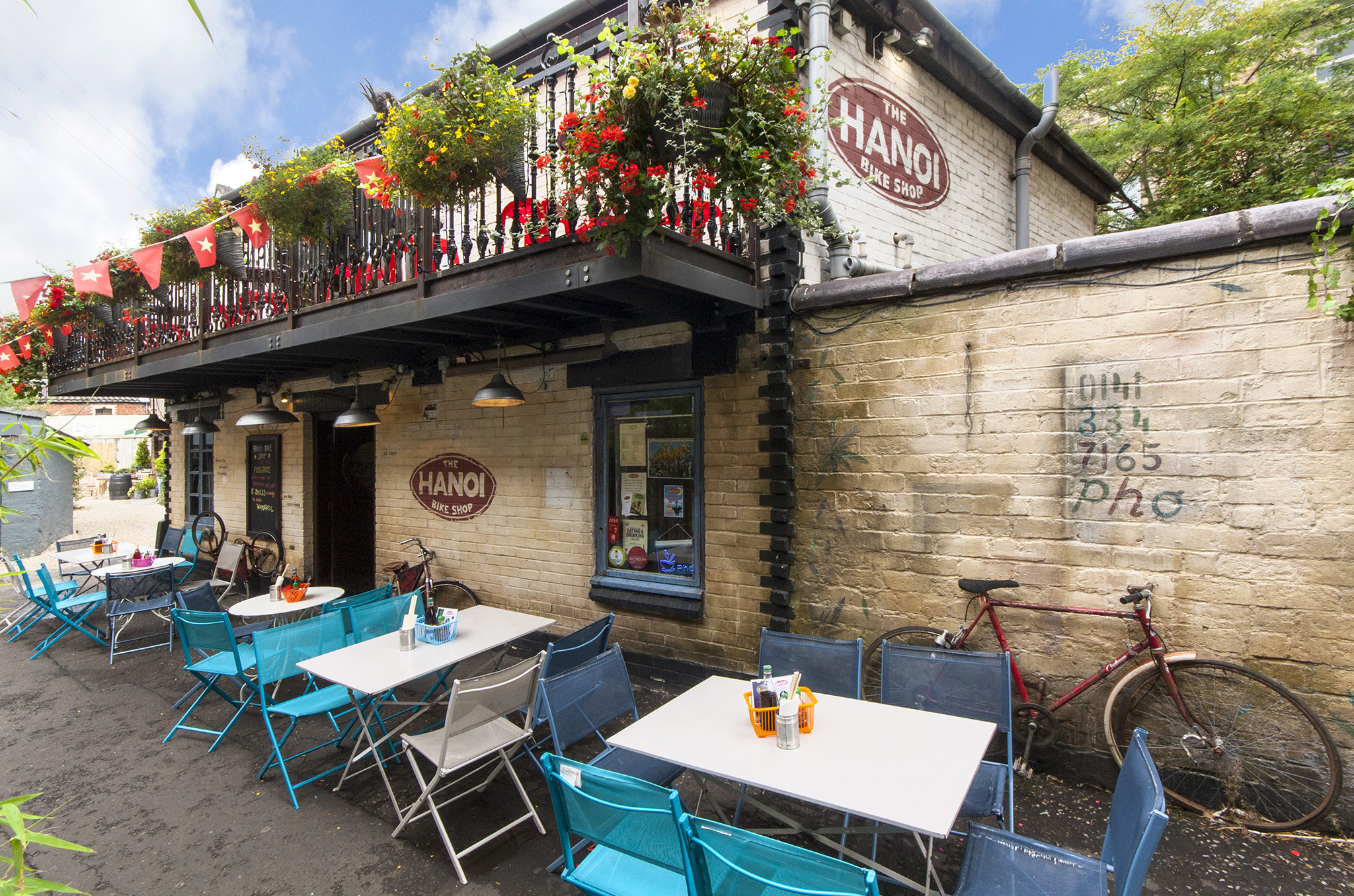 The Hanoi Bike Shop is located down the cobbled Ruthven Lane, home to many vintage arts and craft shops. This unique Vietnamese restaurant is wonderfully decorated with old bicycle tyres on the walls, and features an upstairs dining area filled with a multi-coloured sea of lanterns. Relaxed in style, there are no starters or mains on the menu, but instead visitors are encouraged to share between two, and the food is brought dish by dish when ready. Stand-out dishes include five-spice chilli prawns, served with an unusual soy salad cream, coconut and rice flour pancake and savoury spiced pork and minced prawns. From the 'pot' dishes, chicken is marinated in a pungent chilli and ginger glaze surrounded with a savoury salt caramel sauce. The special Vietnamese coffee is delivered by a French drip into a glass containing condensed milk.
8 Ruthven Lane, Glasgow, Scotland, G12 9BG, United Kingdom
Brel
As Glasgow's only Belgian-themed bar, (named after the Belgian singer-songwriter Jacques Brel) Brel is an upmarket bar on the West End's renowned Ashton Lane. There is a wide selection of Belgian beers on offer, and on the menu, small plates are of a consistent quality with the pork belly and Belgian flammekeuch (toasted cheese and ham) notable highlights. Brel is most famous for its Moules Frites, Scottish steamed mussels served with homemade soda bread.
Ubiquitous Chip
A Scottish icon, Ubiquitous Chip is one of the best restaurants in Glasgow, set over a few floors with a terrace and a downstairs restaurant that has been wonderfully decorated to resemble a rainforest. Complete with a lake and humongous plants visitors can cross the wooden bridge upstairs and take a seat overlooking the jungle below. The Chip was opened by Ronnie Clydesdale in January 1971 at a time when Scottish cuisine was confined solely to the home. The menu is inspired by regional Scottish dishes using solely Scottish produce.
Kimchi Cult
This little blink-and-you'll-miss-it eatery has been wowing diners since moving from London to Glasgow's west end. Describing the food as 'punk riffs on Korean classics', Kimchi Cult is home to the best fried chicken in Glasgow. Coated in a sweet gochujang hot sauce, it's incredibly crisp and downright delicious. The star of the show is the bibimbap: Korean purple rice with fried egg, kimchi, vegetables and your choice of meat or tofu. Dishes from £3.50.
Nippon Kitchen
Stunning food in an equally stunning setting. There are various sushi platters on offer, containing up to 38 pieces for really hungry diners. The bento boxes are extremely filling and a big hit with the lunchtime crowd. Finish your meal off with a Nippon Old Fashioned – one of the best cocktails in the city. Main courses from £9.50.